These are some of the many drawings done by art students enrolled in Visual Art studio courses at Uni High. A blend of skill development and imagination make these a representative sampling of the quality of work these young people are capable of producing.
---

The following still-life color-pencil drawings were done in an early Art 2 class instructed by Karen Hellyer.

Other Drawings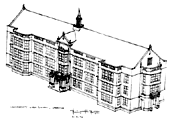 [Balazs Bognar]


---
[Computer Generated] [Objects] [Paintings] [Drawings] [Self Portraits] [Other Media] [Home]

All images, code, and imbedded firmware Copyright &copy 1997 by

University of Illinois Laboratory High School.

This page is maintained by The Artspace Team.